We've just received news that
Singapore History Museum
at Riverside Point is going to close in early March.

The official word.


"Closure of the Singapore History Museum & Rivertales exhibition at Riverside Point from 6 March 2006
The Singapore History Museum at Riverside Point will be officially closed to the public from 6 March 2006. The last day of operation at the Singapore History Museum is 5 March 2006. The Rivertales exhibition at Riverside Point was launched in August 2003. The closure will enable the preparation and setup for the opening of the new
National Museum of Singapore
at Stamford Road.

The new National Museum of Singapore at Stamford Road will be officially open to the public in December this year. From April to November 2006, the various event spaces at the new Museum will be opened in succession. A series of film, visual and performing arts events have been scheduled to allow our local and international visitors a preview of the new National Museum."

It'll be a good idea to catch them before they close.

It might very well be your last chance to
perform heroics in a national museum...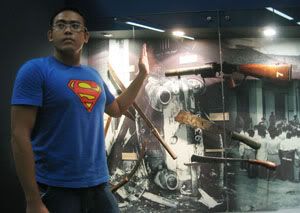 and get a photo with Ju Ming's Living World Series Sculpture by the river side.